The Shehanas proved that the expression "They say if you can dream it, you can do it" is very true!
Following their certification of the GDW Leadership Program in 2020, the Shehanas are now confident influential actors in their community. This year Avin Sido and Rola Raji Halawi organized an autumn camp for adolescents this year. This project is designed for teenagers (between 18-20 years old) and was held in Barouk, El Chouf in Lebanon for two weekends. They aim to spread their knowledge and experience in steadily leading from within and potentially working on an environmental project.
After surveying and investigating, the Shehanas found out that the impact of Covid-19, and the economic and social crisis in Lebanon had adversely affected the youth's physical, mental and social health. They also spotted a compelling necessity for a project that calls for and spreads environmental awareness especially after the devastating forest fires rage in Chouf-Mountains that caused various environmental damages. The girls from the Chouf expressed their wish to put in place a project to rehabilitate some of the most damaged areas of the forests.
This innovative autumn camp is a crucial opportunity for these teenagers stepping into adulthood spending their autumn time in educational and recreational activities. They will primarily connect with their inner leader, be self-reliant and resilient, improve their communication skills, and acquire leadership skills. Most importantly, they will improve their physical health, be adventurous, make new friends and have fun all together.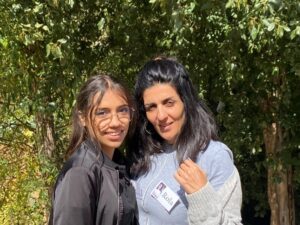 Avin Sido and Rola Raji Halawi