HUMMINGBIRD TRIBE IN ALEY LEBANON
Our Lebanese girls in Lebanon are safe, healthy and more eager than ever! Just to start with that! Much of our work takes place in Lebanon, where our co-director Yvonne Daher has her roots.
A politically dramatic situation for generations with currently hopeless deflation, paralyzing COVID-19 and now also a devastating explosion. It doesn't seem to stop. Lebanon is having a hard time, very hard. Our hearts go out to all the people in Lebanon and we hope to be able to support as much as possible.
Despite of everything the projects with the Hummingbirds are going through very nice, noteworthy and certainly inspiring developments. Especially now!
COMMUNITY GARDEN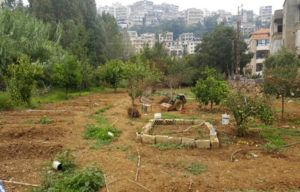 The urgent need for necessities of life has increased even more now that the grain stock has also gone up in flames before the eyes due to the explosion. How do you get food in times of growing scarcity and deflation? Create it yourself!
If someone knows how to grow vegetables, another can keep chickens and a third can make the local bread, so to speak Tannour, you can provide for your own needs and also urn something by sales. The Community garden is a fact.
This fantastic idea comes from the Hummingbirds training group;
Best of all, we have received approval from our partner HIVOS and are currently looking for land thanks to their contribution. Your support would make it possible to further organize it and continue it for sale.
HAIRDRESSERS PROJECT
Update hairdresser
Discovering your own qualities to use them in the best possible way is what we strongly believe in. The Hummingbirds program is aimed at enabling these young women to do business. Research led them to a business plan to set up a joint hairdressing company. The skills are easy to learn and there is a huge market for them both in their own culture and in the Lebanese. We therefore started working with them; some of them are trained, the materials have been received. Due to the pandemic and the lock down, the company has come to a standstill. As soon as the opportunity arises, they get back to work. A mentor is needed to encourage and support them where necessary.