Ambassadors
Desmond Tutu

We are very proud that Desmond Tutu supports DreamWeb. Desmond Tutu is worldwide appraised for his role as a unifying leader figure in the campaign to resolve the problem of apartheid in South Africa. He continuously campaigns for the oppressed, poverty and racism.
"I highly recommend and support this innovative program DreamWeb, certainly because it stimulates people to understand each other and therefore it is a valuable contribution to a more peaceful world".

Read his full recommandation letter (PDF)
Harcourt and Annelies Klinefelter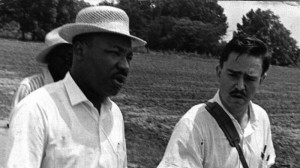 Harcourt and Annelies are working on several programs including the King Centre, to get attention for the message of Martin Luther King. This originates from the time when Harcourt worked as a press officer for Martin Luther King in the 60's. We are very pleased that both Mr. and Mrs. Klinefelter have offered us their support and advice for DreamWeb.
Partners
Desmond&Leah Tutu Foundation

The DreamWeb Expedition program is created in collaboration with the The Desmond & Leah Tutu Legacy Foundation . As our goals are very similar we intend to organise more joint programs
Tutu.org.za

Hivos WE4L

Beam is a local NGO in Lebanon with whom the DreamWeb Hummingbirds program is organised.Beam on Facebook

Woltjer Stichting

Woltjer StichtingWoltjer Stichting provides financial support for projects that are aimed at the philosophical education of pupils- for schools in the Amsterdam region: projects that help young people develop their vision of life, awareness of norms, values ​​and mutual respect and projects that are aimed at classical education in a broad sense and stimulating a scientific attitude.
Woltjer Stichting

Beam Lebanon

Beam is a local NGO in Lebanon with whom the DreamWeb Hummingbirds program is organised.
Beam on Facebook

Floone

Floone Media is the production company of Maarten Langelo. Next to the wonderful videos and promos he made for DreamWeb​​, Maarten is also program manager of the DreamWeb film program. Floone.com

Huygens College in Amsterdam

A number of students from Huygens College in Amsterdam have done the DreamWeb Peace College program in the past years.
huygens-college.nl

BNC in Monnickendam

Students of Bernard Nieuwentijt College in Monnickendam have experienced the DreamWeb Peace College over the past few years.
bnc.nu