Foundation Global DreamWeb
Our ultimate goal is to create a Global DreamWeb of young people who help each other to realize projects with the aim to create a more peaceful world. Our high impact programs increase mutual understanding between people. Central themes are peace of mind, respect, cooperation, solidarity and social commitment.
Foundation Global DreamWeb (established on April 7, 2010) is an independent non-profit organization (ANBI status since January 1, 2013) and a Corporate Enhancing Enterprise. This means our values are central. We connect inspired individuals who share and wish to spread the Global DreamWeb values, so that the programs continue to contribute to a peaceful society in a sustainable way.
We work with a small core group of paid employees and a large network of volunteers and experts. The Foundations follows the rules of good governance stated by ANBI (Tax authorities) and CBF (certification for Charities). In addition to the Foundation's articles of association, regulations are laid down to capture such matters as division of functions and controls, especially when it comes to finance.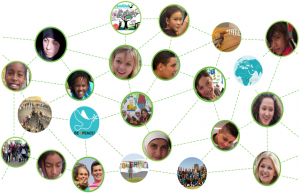 Our view on Peacebuilding
What is needed for a peaceful society? We do not claim to have all the answers but we do know that we develop peace from the inside out.  Our model starts with the individual. We connect that individual to an effective team. Together they engage in meaningful action in the world.
We aim to create a Global DreamWeb, a network of young people teaching, spreading and encouraging peace through actions. The Global DreamWeb supports and empowers young people to create entrepreneurial projects that manifest peace in the world.
The essence of peace building is peace of mind and empathy that can be evoked by seeing the human in everyone. Understanding the other begins with understanding yourself and gaining knowledge of your own references and biases. We learn to communicate in an open way with awareness of assumptions.